Botanicals: Are They Easily Labelled?
Botanicals: Are They Easily Labelled?
The use of botanicals in foods has risen in popularity over recent years, fuelled by the perceived health benefits they offer to our physical and mental health. Ashbury's regulatory team shares some labelling and regulatory advice for businesses keen to use them as ingredients…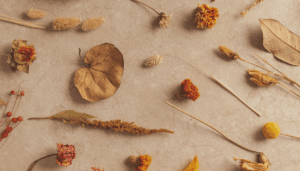 Botanical ingredients are commonly used in herbs, spices, teas, herbal infusions, gins, and flavoured water. With some offering immune-active and antioxidant benefits (plus much more), it's no surprise they're considered a key opportunity for food businesses to reach out to health-conscious consumers.
What Regulations Apply to Botanicals?
Botanicals can be used in three categories: standard food (such as mint tea), food supplements (which is a sub-set of food), and traditional herbal medicines. Depending on their intended usage, history, safety, and how they are sold, companies must adhere to the specific rules and regulations that apply to each category.
Botanicals in Food
If botanicals are used in food, such as mint tea, and do not promote any specific nutritional or health benefits, standard food law can be followed. If they do promote health and nutritional benefits, any claims used must be approved and be included on the Nutrition & Health Claims Register.
Whether the product us defined as food or medicinal can sometimes be a grey area for brands using botanicals, but the crucial difference is that food (including supplements) cannot claim to prevent, treat, or cure disease or ailment.
Botanical in Food Supplements
Botanicals used in food supplements must adhere to food supplement labelling requirements, in addition to the standard requirements for food. A supplement must be sold in dose form, such as a capsule, pill, tablet, pastille, ampoule, or drop dispenser, but it must have a nutritional or physiological effect.
An example of this is Doctor Seaweed's Immunity Capsule, a supplement which uses several approved health claims, including vitamin B12 which supports the normal function of the immune system, psychological function, and the reduction of tiredness and fatigue. It also includes Vitamin D3 which supports normal bone and muscle function.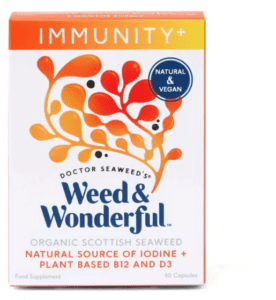 Doctor Seaweed's Weed & Wonderful Food supplement Immunity Capsules – Boots
Under food law in the UK, they must be safe for consumption and also cannot claim (either directly or by implantation) to treat, prevent, or cure a disease or medical condition.
Botanicals in Medicines
If a product containing ingredients is purported to treat, cure, or prevent disease, it would be classed as a traditional herbal medicine and therefore be regulated under medicinal law – specifically, Directive 2004/24/EC of the Traditional Herbal Medicinal Products Directive.
An example of a traditional herbal medicine is the Stress Relief Tablets by Holland & Barrett, which is used for the temporary relief of symptoms associated with stress, such as anxiety.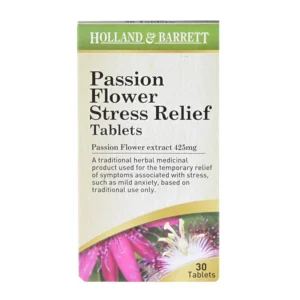 H&B Stress Relief Passionflower Tablets | Holland & Barrett (hollandandbarrett.com)
To help manufacturers assess the feasibility of using a particular botanical ingredient, the EU herbal monographs details the EU's Committee on Herbal Medicinal Products' and provides scientific opinion on the safety and efficacy of botanical substances.
Similar to the approved Nutritional Health Claims Register, there is a register for traditional herbal medicines. Herbal medicines granted a traditional herbal registration (THR) – GOV.UK (www.gov.uk). This lists the uses of the products (claims).
It's also important to become familiar with the list of banned and restricted herbal ingredients, and to ensure any approved ingredients are used legally. For more information, check out the giv.uk website(1).
What does a compliant botanicals label look like?
As with all consumer goods in the UK, products containing botanical ingredients should not be misleadingly labelled and must adhere to existing food labelling regulations. These cover elements from the use of health claims and nutrition information, to the inclusion of dose warnings and trademarks.
Given the complexity of using botanicals as an ingredient, it's unsurprising that many food businesses seek clarity from food label consultants on not only which category their ingredient falls under and therefore which laws apply, but also to ensure complete compliance from a broader labelling, health claims, and marketing perspective.
Until next time…
Next Up:
Revised Guidance in the US Regarding 'Healthy' Claims – Ashbury
Sources
1 | https://www.gov.uk/government/publications/list-of-banned-or-restricted-herbal-ingredients-for-medicinal-use/banned-and-restricted-herbal-ingredients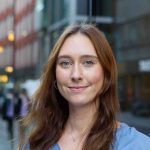 My background in Food Science and Marketing means I have a unique combination of commercial creativity and technical food manufacturing experience. My ambition is to bring clarity to the complex world of compliance through the simple and eye-catching communication of Ashbury's services.
Keep up to date with our latest insights
Subscribe to our mailing list to stay in touch with the latest news, insights and updates from Ashbury