Baby food and heavy metals: How does US federal law compare to EU and UK baby food legislation?
Baby food and heavy metals: How does US federal law compare to EU and UK baby food legislation?
We spoke to our Product Information Advisors, Jenny Pfleger (UK) and Marisa Them (US) about the regulations that govern the presence of heavy metals in baby food in the USA compared to those in the UK/EU.

What's happening with baby food and heavy metals in the USA:
Baby food contaminated with heavy metals is a booming debate in the US right now; so, what's it all about? A recent report has brought to light the presence of heavy metals in baby foods and denoted this to the lack of legislation governing the contaminants. Several lawsuits against manufacturers mentioned in the report have also been filed, alleging consumer fraud and deceptive labelling.
In the US, there are no regulations are surrounding heavy metal limits in baby food – except for the recent guidance (August 2020) on setting an action level (100 ppb) for inorganic arsenic in infant rice cereals and the proposed 10ppb limit on inorganic arsenic in apple juice. Consequently, manufacturers have been forced to create their own internal standards which do not always include testing of finished goods, only ingredients, and may lack consistency and not be as stringently enforced as federal law.
The push for the FDA to develop testing standards and heavy metal limits is of very high importance. Without prescribed limits, the goalposts are forever in motion, meaning complaints will continue until there is a number to point to. Even with limits, the industry should be pushing for best practices to have the lowest possible contamination. However, it is important to note that many heavy metals are naturally occurring elements that are found in soil and water and it is not possible to remove or completely prevent heavy metals from entering the food supply chain; a point that the congressional subcommittee report failed to mention. What this means is that homemade baby food could very well contain the same levels found in some of the store-bought baby foods mentioned in the report.
In general, regulations for baby food in the US cover nutrition facts box formatting and dietary reference value / recommended dietary intake differences between children and adults (21 CFR – Sec. 101.9 Nutrition Labeling of Food).  There is also a regulation that nutrient content claims cannot be made on products marketed to children under the age of 2 years old, except for claims regarding vitamins and minerals as described in the legislation. There are no other testing regulations for baby food except the aforementioned guidance for inorganic arsenic in rice cereals.
Current regulatory environment for baby food in the UK and EU:
In the EU/UK, we see a contrast in approach to regulation; baby food has a unique set of legislation which is generally quite strict and defines allowances for ingredients, additives, contaminants, and controls on advertising. Under Regulation (EC) No 1881/2006, concerning contaminants in foodstuffs, certain maximum levels for heavy-metal contaminants in baby food are outlined (see table one). These are set at a level that is As Low As Reasonably Achievable (ALARA) and consider that some presence of these contaminants is unavoidable. Formulae and follow-on formulae have separate limits and there are other limits set for mycotoxins, PAHs, dioxins, and so forth. The baby foods legislation (Directive 2006/125/EC on processed cereal-based foods and baby foods for infants and young children) also prohibits the use of certain pesticides in agricultural products intended for the production of such foods and sets strict maximum residue levels for others.
In the EU and UK, there are also ongoing discussions concerning the nutritional standards for baby food; sugar has been a sticking point in agreeing to the legislation that is due to replace the 2006 directive. Additionally, the UK proposals under the health 'Prevention Green Paper' will recommend restrictions on sugar and salt content that are stricter than EU legislation and cover a wider range of foods aimed at infants and young children – in particular drinks and snacks that don't currently fall under the baby foods legislation, as well as products that do.
While it may be true that setting limits for these contaminants is difficult due to their unavoidable presence and known threat to human health, there is a clear need for a framework of guidance in the US (like that set in the EU) to appease consumers and manufacturers and mitigate the risk of litigation. The FDA has now agreed to provide such guidance but no timetable has been released to support this.
Table One: EU limits for heavy metals in baby food; an excerpt from Regulation (EC) No 1881/2006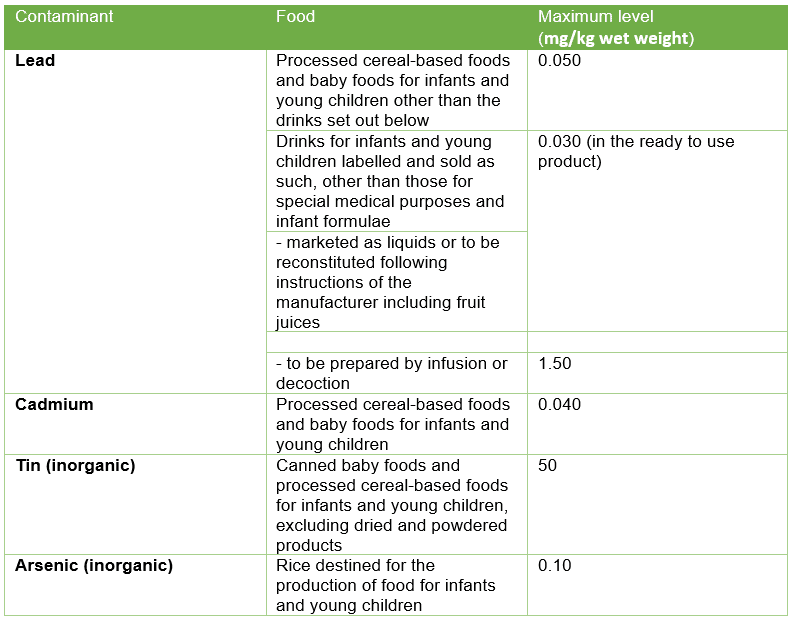 Read our guide to UK Food Labelling Regulations to learn more.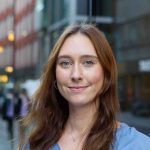 My background in Food Science and Marketing means I have a unique combination of commercial creativity and technical food manufacturing experience. My ambition is to bring clarity to the complex world of compliance through the simple and eye-catching communication of Ashbury's services.
Keep up to date with our latest insights
Subscribe to our mailing list to stay in touch with the latest news, insights and updates from Ashbury