Ashbury rebrand:
The changing face of product labelling
Ashbury rebrand:
The changing face of product labelling
James Post, Managing Director at Ashbury, looks at how the changing way in which consumers now view on-pack labelling was one of the prompts for a new name and look for the company.

What prompted the move from Ashbury Labelling to Ashbury?
Today's consumers access product information in a very different way to when the Ashbury Labelling business was set up in 2010. Over a surprisingly short period the increase in social media, food apps, internet and online newspapers, has all grown to match or overtake traditional media. This, along with changes to packaging formats, is also impacting on the way in which food compliance information is delivered to consumers. The market is moving away from printing everything on the label. In the future consumers will access this information through an app, a QR code or a website from wherever they are.
The word 'labelling' is a very narrow interpretation of the work we do. Of course, a label is often the end result, but our expertise in regulatory compliance is much broader than the name labelling suggests. On a practical level, although we never touch 'a label' people do get confused by our name and we receive thousands of requests each year for 'a box of labels'. To add to the issues, the word 'labelling' is spelt with only one 'l' in the US which makes brand consistency difficult for the global company Ashbury has become.
Looking to the future and staying in tune with our customers' changing requirements were some of the reasons for developing a new look for Ashbury Labelling and for the significant move to drop the 'labelling' element of our company name.
Reflecting on our success
The aim when we established Ashbury was to deliver simple solutions to the complex challenges of global labelling compliance. We wanted to achieve this while creating a happy working culture, where people feel appreciated, supported and empowered. Today as the leader of this growing and thriving business, I am delighted that we still adhere to that original philosophy; it is my biggest achievement since starting the business. So, what has made us successful?
Global reach and an in-depth understanding of regulatory issues
Ashbury has grown due to our ability to think differently to other compliance companies. We are the only ones to focus on regulatory as a stand-alone rather than offer it as an add-on to other services. We can deliver private label work for retailers – all with high volume and a high level of accuracy. Twenty thousand approvals per year with no errors is a great achievement!
In the early days we could see the opportunities that would open-up for our clients on an international basis and our desire was to grow with them. We started in 2010 and by the end of 2012, we had built a pan-European team. In 2013 we added US, China, Middle East and large parts of Eastern Europe to our offering. This gave us a sound base from which to grow; we now offer our services in 35 languages across 80 countries. This global reach and in-depth understanding of local regulatory issues has been a real benefit to clients looking to expand into new markets.
Asbury's vision for the future?
The expectations and knowledge of consumers has changed significantly since we set up the business. Today consumers demand accurate, clear information. Their knowledge of allergens, calories and health claims means that brands must stay ahead of the game. Accurate information is not just a legal requirement, more importantly, it dictates how the brand will be viewed by customers and potential customers. One mistake can go viral in hours and damage brand reputation – the pace of change since 2010 is significant. Keeping on top of the changing legislation is something our clients cannot afford to do – but more importantly, they cannot afford to get it wrong.
This year we will need to advise our clients on the impending Brexit changes, but over the next five years we will see more divergence as the UK moves to position itself closer to the US while keeping trade open with the EU. Over the coming years Ashbury will become established in European markets – by developing the retailer relationships (similar to our core UK market) and we will continue to develop our businesses in US and Australia.
Our new name is Ashbury and we are the Product Information People.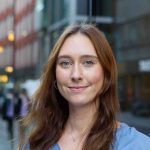 My background in Food Science and Marketing means I have a unique combination of commercial creativity and technical food manufacturing experience. My ambition is to bring clarity to the complex world of compliance through the simple and eye-catching communication of Ashbury's services.
Keep up to date with our latest insights
Subscribe to our mailing list to stay in touch with the latest news, insights and updates from Ashbury