Switched to takeaway? Rules on allergen information
Switched to takeaway? Rules on allergen information
Pete Martin, Ashbury's Regulatory Director looks at the allergen information rules for takeaway food as hospitality businesses make the switch to delivery and takeout service during the Coronavirus pandemic.

Introducing a takeaway component to their business probably wasn't ever in the plan for many restaurants, cafes and pubs and even high street bakeries. But the COVID-19 pandemic has meant that many operators have had to rise to the challenge and diversify into takeaway to keep their businesses afloat while hospitality industry closures are in place and there are allergen rules for take away food that must be followed.  Unlike retail where stock can be held until it is sold, foodservice depends on immediate sales; if orders are not placed, there is no income. While many operators are now hoping for some openings from July 2020 onward, for now many are working in a takeaway format, using click and collect or taking over the phone orders.
Consumer allergen information
In order to keep crowds down and limit the use of cash, many foodservice operators have switched to 'click and collect' , quickly adding e-commerce like Wix, shopify, BigCommerce to existing websites so that they can seize the opportunity of takeaway business revenue. Regardless of whether you are operating on-site or take away there are still food safety rules, including the way in which important information is communicated to the end consumer, particularly with regard to allergens. The same rules apply whether the customer is eating food in your restaurant for example or supplied by you to eat at home. The Food Standards Agency has recently updated its guidance for food businesses undertaking on-line delivery and it states that:
"You can receive an order for a takeaway by phone, your own website, or another online platform.
If you are providing an online menu or order form, you must make sure it is clear what you're selling, along with the price, and all relevant allergen information too. Food delivery businesses must provide allergen information to customers when taking an order. This can be done orally (by phone) or in writing (through your website or a printed menu).
Information on your website must advise customers where they can obtain allergen information before they place their order".
Staff allergen training – what to consider:
Just as if your establishment was open, staff should be trained and aware of how to take orders, ensuring that they ask about specific allergy requirements, over the phone. In addition, they should have:
Clear written allergen information to refer to, so that they can respond to allergy requests accurately. The FSA says that food businesses need to tell customers if the food they provide contains any of the specified allergens as an ingredient.
If you have a website or any other form of advertising, operators should also state that customers should indicate any allergens or intolerances at the time of ordering.
According to the Chartered Institute of Environmental Health, any allergens or intolerances identified at the time of ordering should be indicated to kitchen staff to ensure that the specific allergenic ingredient is not used and that there is no cross contamination.
Ensure that you clearly label the allergy sufferer's meal, identifying their individual food items to avoid mistakes on delivery and unpacking by the consumer.
During delivery, food prepared for allergenic customers should be stored separately to avoid cross contact.
"If you are unable to put in place safe procedures to prepare meals for allergy sufferers, you MUST NOT offer or serve allergy-free food to customers until you are confident you can prepare those dishes safely," says the CIEH.
Full information on supplying allergen information to your customers during the COVID-19 pandemic can be found at https://www.food.gov.uk/business-guidance/food-safety-for-food-delivery . If you would like to get in touch with Ashbury for specific regulatory advice click here.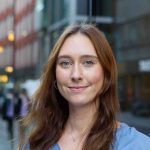 My background in Food Science and Marketing means I have a unique combination of commercial creativity and technical food manufacturing experience. My ambition is to bring clarity to the complex world of compliance through the simple and eye-catching communication of Ashbury's services.
Keep up to date with our latest insights
Subscribe to our mailing list to stay in touch with the latest news, insights and updates from Ashbury