Natasha's Law: What is it & What Does it Cover?
Natasha's Law: What is it & What Does it Cover?
Navigating the world of food labelling compliance is essential for businesses hoping to launch successful products that are safe for consumers to eat. One of the most significant changes to food law in recent years was the introduction of the UK's Food Information (Amendment) Regulations 2019, commonly known as 'Natasha's Law'.
The amendment to regulations enforced new rules from October 2021 for the presentation of allergen information to consumers for all foods pre-packed for direct sale (PPDS). For businesses in the food sector, understanding this law and its implications is essential for keeping consumers safe.
In this article, we'll explore the origin of Natasha's Law, the allergens that it covers and how businesses can ensure full compliance with such a crucial law in UK food labelling regulations.
Table of Contents
What is Natasha's Law?
Natasha's Law is an amendment to UK food labelling legislation that came into effect following the tragic incident involving a teenager named Natasha Ednan-Laperouse. In July 2016, 15 year old Natasha died from an anaphylactic reaction after eating a baguette from Pret a Manger at Heathrow Airport.
The baguette contained sesame seeds which she was severely allergic to, but this allergen wasn't listed on the product's packaging because of an exemption in the labelling law for pre-packed foods at the time. Prior to the amendment, businesses selling PPDS foods had no legal obligation to physically list ingredients or potential allergens on the product, and could communicate the allergens verbally when asked by the consumer.
In response to her fatal allergic reaction, Natasha's family campaigned for greater transparency and consistency around the labelling requirements, and the Natasha Allergy Research Foundation along with Natasha's Law were introduced.
Essentially, the introduction of this law meant that all prepacked for direct sale (PPDS) foods must clearly display the following information on the packaging:
Name of the food
Full ingredients list and allergenic ingredients emphasised (for example, in bold, italics or a different colour)
The intention is to label allergens in food prepacked for direct sale in the same fashion as pre-packed food you might find on supermarket shelves, to further protect consumers and avoid tragic deaths. No allergen charts or other alternatives may be used, however, precautionary labelling requirements such as 'may contain' or 'not suitable for' are acceptable.
What is a PPDS Product?
The official definition is: "Food packed before being offered for sale by the same food business to the final consumer:
On the same premises; or
On the same site; or
On other premises, if the food is offered for sale from a moveable and/or temporary premises (such as marquees, market stalls, mobile sales vehicles) and the food is for sale by the same food business who packed it
In practical terms, pre-packed for direct sale (PPDS) foods are presented in packaging before it is ordered or selected by a customer. PPDS can include products kept behind a counter, and foods sold at mobile or temporary outlets (such as pizzas, salads, pasta pots, and burgers), as well as products which consumers can select themselves from a display unit (such as individually-packed cakes, bakes and sandwiches).
The definition excludes one preparation site serving other sites unless they fall within that list of moveable or temporary premises.
In terms of legislation, labels should be designed in accordance with regulation 1169/2011 FIR, which outlines the details regarding where and how this information should be presented on your packaging.
It's important to note that foods that are not PPDS must still have allergen information provided, but this can be done through other means, including verbally.
How Many Allergens are Covered by Natasha's Law?
Natasha's law recognises the same 14 allergens as mentioned in existing UK food labelling guidelines:
Celery
Cereals containing gluten, such as wheat, rye, barley, and oats
Crustaceans, like prawns, crabs, and lobsters
Eggs
Fish
Lupin
Milk
Molluscs, like mussels and oysters
Mustard
Peanuts
Sesame seeds
Soybeans
Sulphur dioxide and sulphites (at levels above 10mg/kg or 10mg/L)
Tree nuts, including almonds, hazelnuts, walnuts, and others
As well as these allergens having to be included, Natasha's Law emphasises clear and unambiguous presentation. Allergenic ingredients should stand out, ensuring consumers can easily identify them without having to read through the fine print. We recommend using a bold type set in the ingredients list, along with the additional statement: 'For allergens, see ingredients in bold'.
How Can I Ensure Compliance with Natasha's Law For My Business?
As a food business, ensuring full compliance with Natasha's Law is important not only for legal purposes, but also for the trust and safety of your consumers. We recommend incorporating the following actions into your business processes in order to comply with Natasha's law.
Conduct risk assements for cross contamination
Even a tiny amount of food protein can cause a reaction in people with food allergies. Conducting risk assessments, such as the one available by the Food Allergy Research & Education (FARE), can help food businesses to reduce their risk of cross-contamination.
Risk assessments can include the required steps when reducing cross-contamination, including using different equipment such as pots, baking sheets, and utensils, washing hands and worktops thoroughly between handling different types of food, and restarting if a mistake is made during the process.
Check your existing ingredients and product labels
Begin with a thorough assessment of all ingredients in your products. Ensure you have detailed and accurate information for each one. If unsure, liaise directly with suppliers to obtain clarity.
You should also examine your current packaging and labels. Any pre-packaged food item for direct sale should not only have a complete ingredient list, but also have allergens prominently highlighted.
Quickly respond to ingredient changes
As soon as a recipe changes, so do the ingredients. Therefore, the labelling needs to be updated. If the recipe of a prepacked food item changes to contain a new ingredient, especially a potential allergen, then you need to update the ingredients label as soon as the product goes on sale. The right systems and optimised labelling compliance processes can make managing product information much more convenient.
It should also be made clear to consumers that the recipe has changed, which could be in writing on the product label. A customer might have previously checked that an allergen wasn't present and purchased the product, so they may not think to check the ingredients again.
Staff training and regular checks
Your employees are the frontline in ensuring compliance. That's why you should organise regular training sessions to keep them updated about Natasha's Law requirements, with special focus on new additions or modifications to product lines.
Routine internal audits can help spot discrepancies before products reach the shelves. Consider frequent checks if your product range changes regularly.
Open channels of communication
Maintain open and frequent communication with suppliers, ensuring you're the first to know if there's a change in ingredients or their sources. Also, establish clear methods of communication for customers to raise concerns or seek clarifications.
Seek expert advice
By consulting with food labelling compliance experts such as ourselves at Ashbury, we can complete thorough checks to ensure your business is fully compliant with Natasha's Law.
We work with leading food-service brands to optimise the management of their global labelling compliance, working together to protect their brand and customers. Get started and contact the team at Ashbury today.
To learn more about Natasha and the action against allergies being done in her name, please visit the Natasha Allergy Research Foundation website.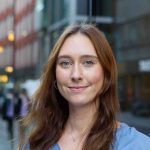 My background in Food Science and Marketing means I have a unique combination of commercial creativity and technical food manufacturing experience. My ambition is to bring clarity to the complex world of compliance through the simple and eye-catching communication of Ashbury's services.
Keep up to date with our latest insights
Subscribe to our mailing list to stay in touch with the latest news, insights and updates from Ashbury